Japan finishes fourth at U19 World Cup
(July 16, 2016) - Japan finished fourth at the IFAF U19 World Championships in Harbin, China. In the bronze medal game Japan lost to Mexico 24-7. Mexico took advantage of five turnovers (two fumbles, three interceptions) converting three of them into touchdowns. Mexico went ahead in the first quarter with a 49-yard fumble return and increased a three-point halftime lead (10-7) to 17 points early in the fourth quarter when QB Abel Garcia Rosado, after back-to-back interceptions, first threw a 9-yard touchdown pass and then ran eight yards for another touchdown.

Japan tied the game (7-7) in the second quarter with RB Iori Motoyama's third touchdown of the tournament (4 yards) but missed a great scoring opportunity early in the third quarter. After a mexican punt Japan's offense started the first possession of the second half at Mexico's 32-yard line and gained 15 yards with the first three plays. But on the fourth play QB Yuya Araki had his third pass of this series intercepted in the mexican endzone. Japan's next two possessions ended with punts and two more interceptions paved the way to a 17-point win for Mexico. Earlier in the tournament Japan had won 42-0 against Australia and lost 50-20 to Team USA.

In the championship Game Canada took revenge for a first round loss to Team USA by beating their north american neighbours 24-6. In the first contest Canada was beaten 32-14. It was the fourth championship game meeting for the two teams in as many tournaments with each team winning twice. Team USA scored the first three points of the contest in the second quarter and last three in the third quarter with field goals of 22 and 27 yards by Jon Fagg.

Canada took a 14-3 lead at halftime with an 80-yard touchdown pass from QB Dimitri Morand to WR Francois Rocheleau and a 47-yard run by RB Felix Lussier-Roy. And it got even worse for Team USA in the third quarter. With their first offensive play of the second half the Canadians increased their lead when Morand threw his second long touchdown pass to Rocheleau (67 yards). On next offensive play of Team USA Bruno Lagace intercepted a pass at midfield and eight plays later K Vincent Blanchard kicked a 40-yard field goal for a 24-3 lead.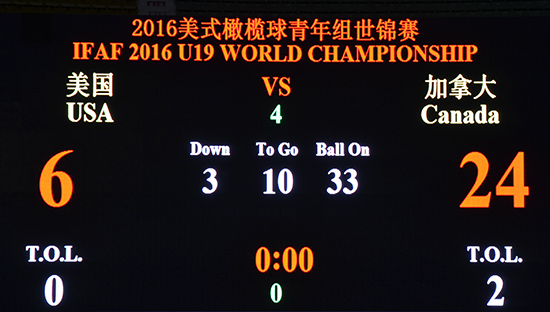 (Photo: IFAF U19 World Championships)
Japan finishes third, Mexico takes title
(June 11, 2016) - Japan finished third at the 2nd World University Championships in Monterrey, Mexico, with a 72-0 win against China. RB Maoki Furukawa, who rushed for 106 yards with only seven runs, and WRs Seiya Inokuma and Aruto Nishimura scored two touchdowns each as Team Japan built a 35-0 lead at the end of the first quarter and a 51-0 lead at halftime. The japanese defense held China's offense to minus 15 total yards and scored 14 points with two interception returns and a safety. Japan also got two special teams touchdowns with punt returns by Inokuma and Nishimura.

In the final game of the tournament defending champion Mexico won the battle of previously unbeatens against the USA 35-7 to win the championship. Team USA scored first with the first offensive series but was outplayed the rest of the game. In the end Mexico had twice as many total yards than Team USA (379-189), four takeaways (three interceptions, one fumble recovery) and blocked a field goal attempt and a punt. Leading the offensive surge were QB Francisco Mata, who completed 17 of 27 pass attempts for 225 yards and a touchdown, RB Fernando Mejia, who ran 16 times for 64 yards and a touchdown, and WR Pedro Magallanes, who had three catches for 96 yards and a touchdown. Mexico lead 21-7 at halftime and destroyed any hopes of a US comeback with two more touchdowns in the third quarter.

Roster Team Japan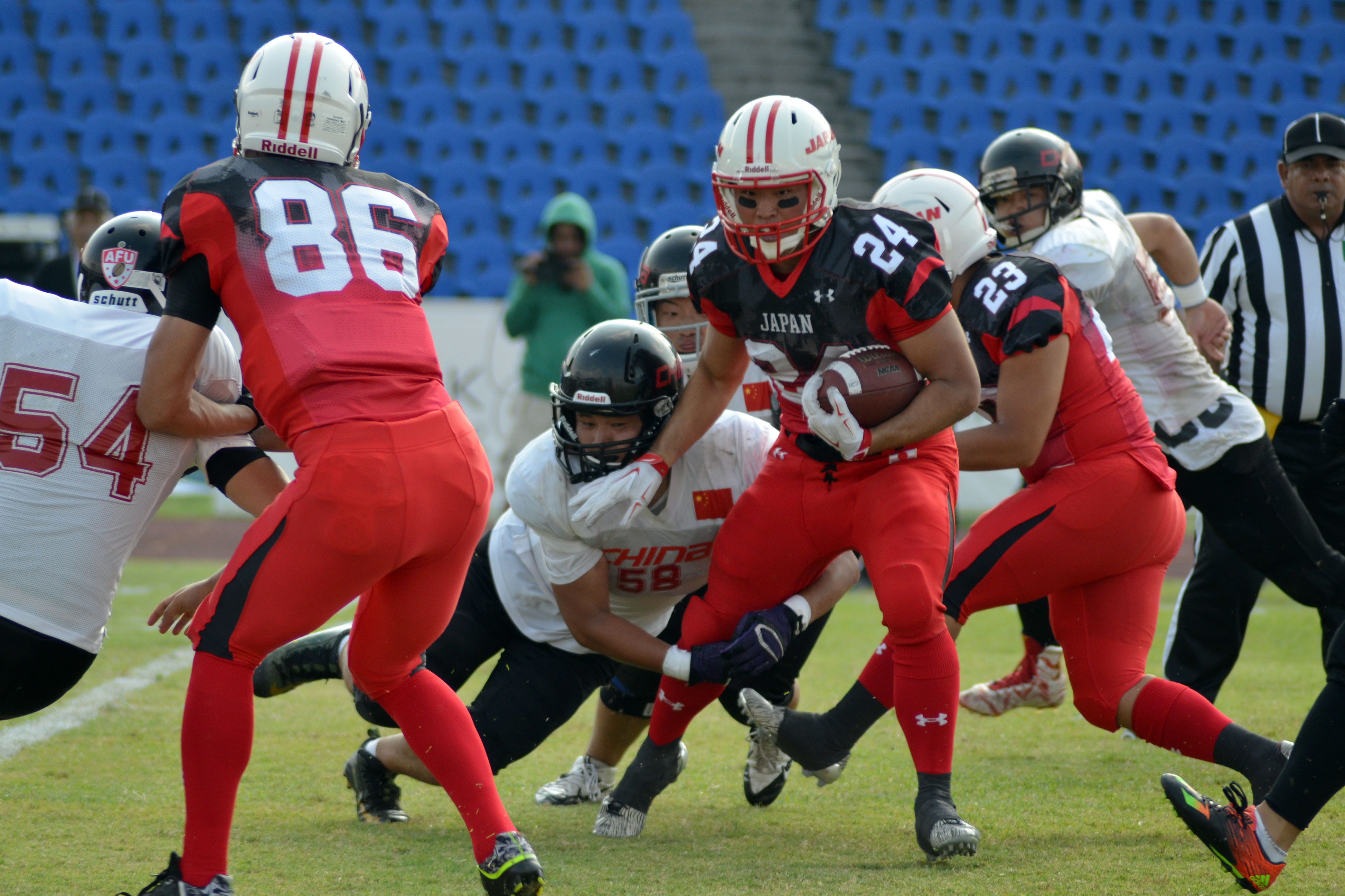 (Photo: FISU World University Championships)
Japan falls to Mexico
(June 9, 2016) - Japan's hopes for a first or second place finish at the 2nd World University Championships in Monterrey, Mexico, came to an end on Wednesday with a 36-3 loss to host Mexico. After back-to-back losses to the two top opponents Team Japan will likely finish third if it beats China on Saturday, June 10. Defending World University Champion Mexico will fight for the title in the last game of the tournament againt the USA on Sunday, June 11.

Two days after a last minute loss to Team USA Japan did not play on the same level against Mexico. While Japan's offense was held to just 184 total yards the defense allowed 529 total yards, 422 on the ground. The game's best player, Mexico's RB Fernando Mejia, alone gained more yards than the entire japanese offense, rushing for 223 yards. Mejia also scored three touchdowns, two in the first quarter, giving his team an early 14-0 lead. Kenichi Otsuka scored the only points for Japan with a 38-yard field goal in the second quarter.

Roster Team Japan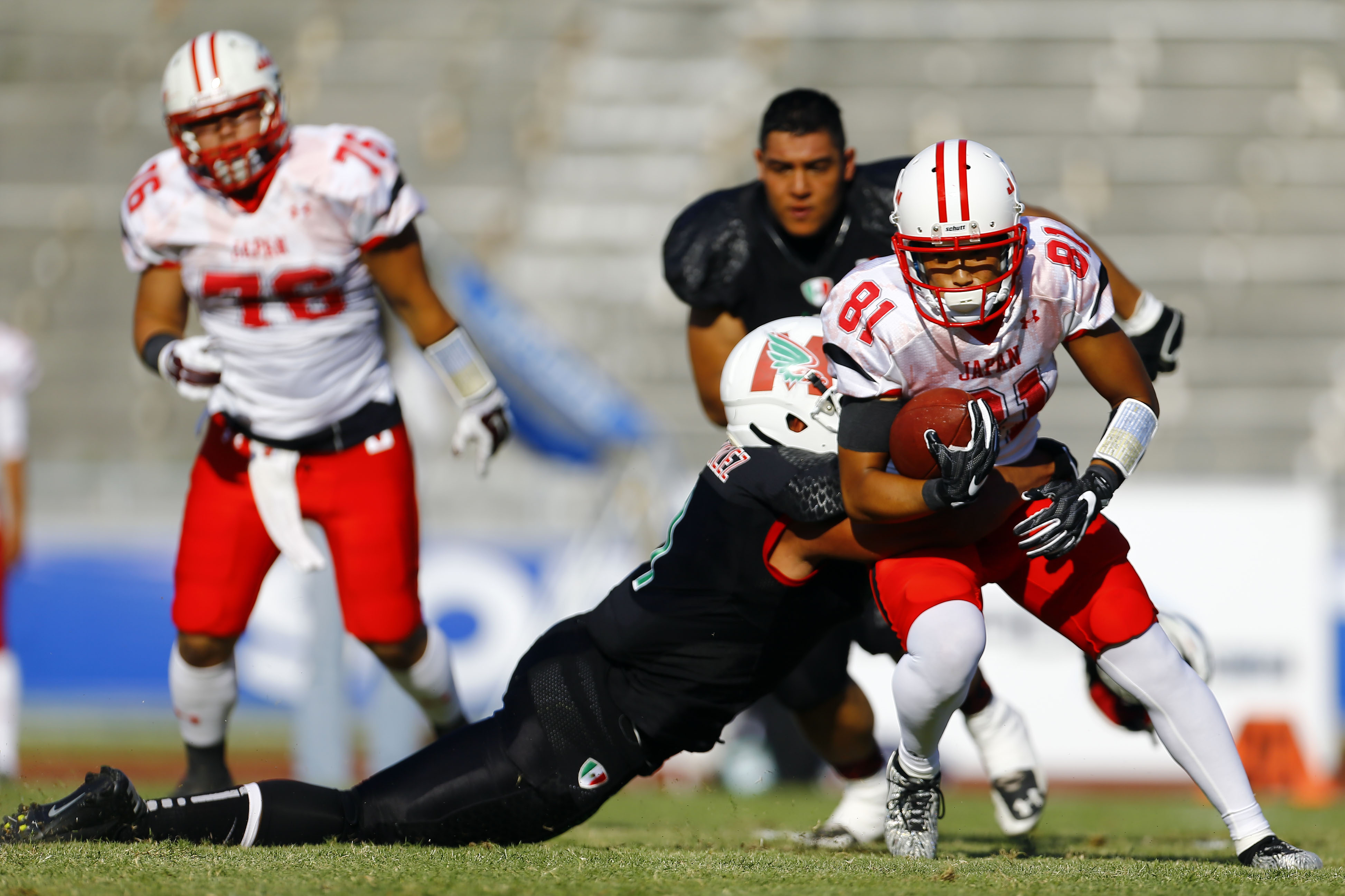 (Photo: FISU World University Championships)
Japan suffers loss in final seconds
(June 7, 2016) - Japan came close but again could not get past Team USA at an international tournament, losing 22-14 at the 2nd World University Championships in Monterrey, Mexico, by giving up nine points in the final seconds of the game. Team USA kicked a 24-yard field goal with three seconds left in the fourth quarter for a 16-14 lead and added six more points by picking off a lateral during Japan's ensuing kickoff return. Japan had taken a 14-13 lead 62 seconds before the end of the game with a 12-yard run by RB Nanato Nishimura from Ritsumeikan University and the PAT by Kyoto University's Kenichi Otsuka. After a short kickoff the Americans started their next offensive series at their own 47-yard line and a 30-yard pass on first down immediately put them into field goal range. Japan's defense did not allow another first down but could not avoid the go-ahead score for Team USA.

Japan now hast to win the remaining two games against Mexico and China to keep the hopes for a first or second place finish alive. At the 1st World University Championships in Uppsala, Sweden, two years ago Japan finished second behind Mexico, losing 14-6 to Mexico in the final game of the tournament. In case of another loss to the Mexicans Japan would likely finish third while Mexico and the USA would play for the title in the last game on June 11.

Roster Team Japan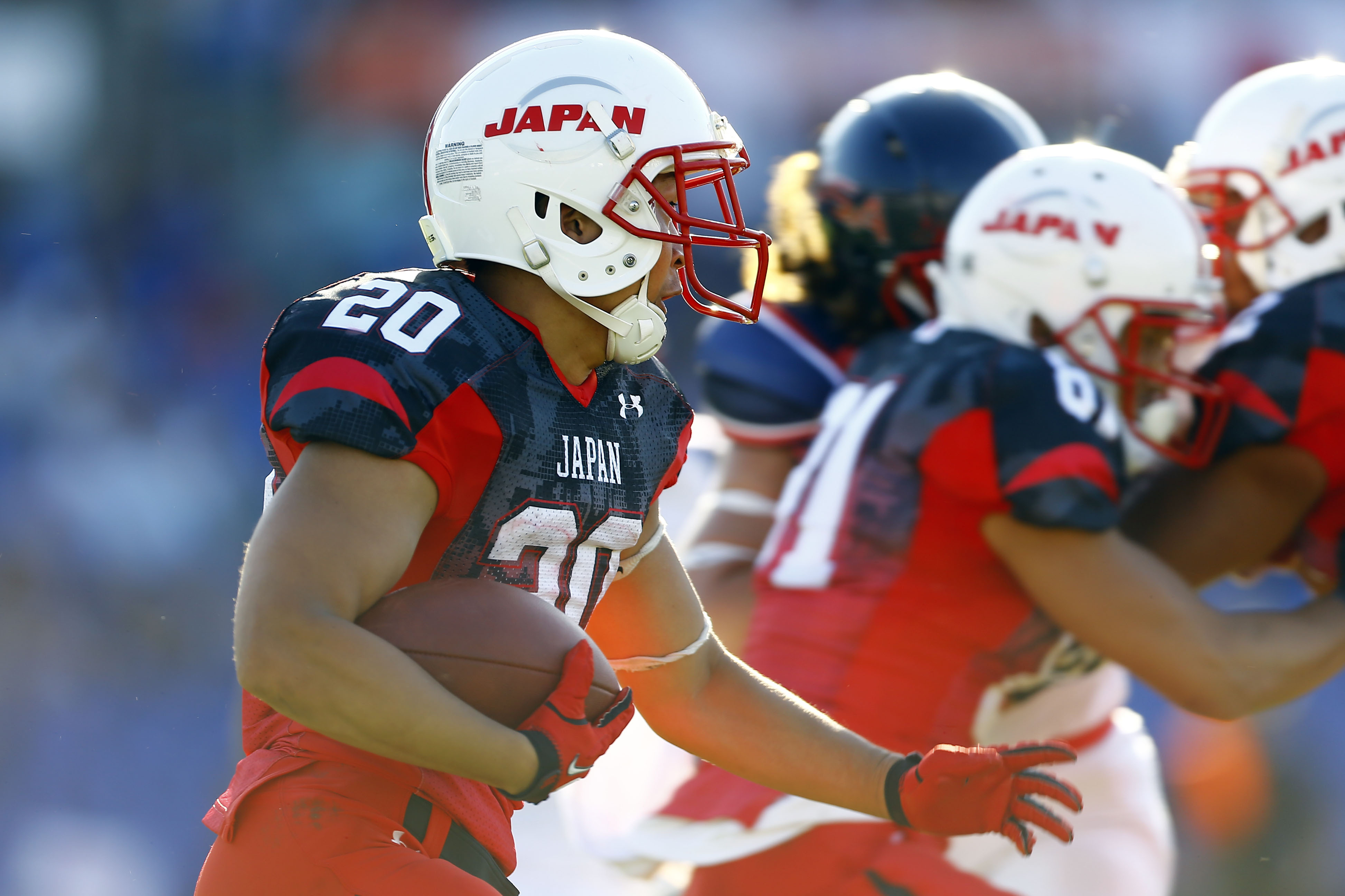 (Photo: FISU World University Championships)
Japan wins opener in Monterrey
(June 5, 2016) - Japan opened the 2nd World University Championships in Monterrey, Mexico, with a 72-0 win against Guatemala. RB Maoki Furukawa from Kansai University and WR Shunya Kotsusa from Hosei University scored two touchdowns each against an overmatched opponent who's offense finished the game with minus 45 total yards and completed only one pass for three yards. Team Japan now faces much bigger challenges with games against the USA on June 6 and Mexico on June 8 before finishing the tournament against China on June 10. In other action Mexico routed China 74-0 on June 2 and Team USA defeated China 55-0 on June 4.

Roster Team Japan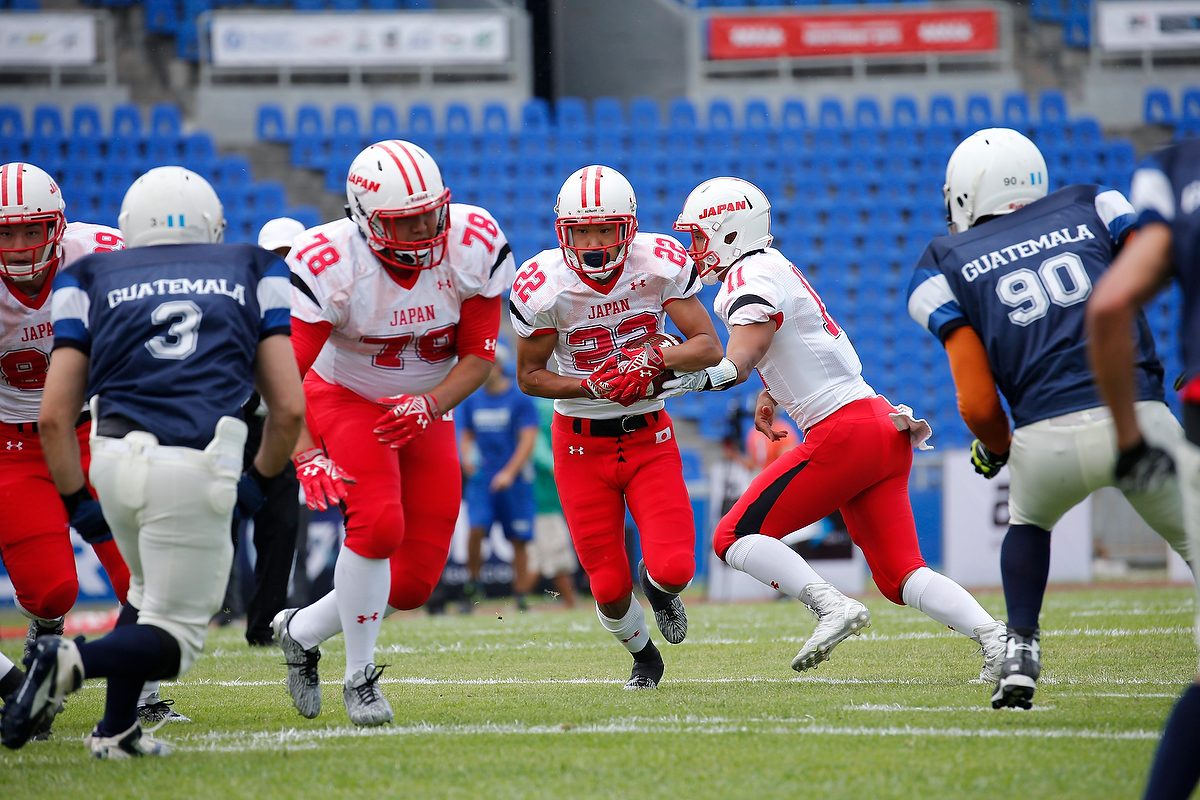 (Photo: FISU World University Championships)