NFL Europe 2006 News
Striving for the NFL
Former Ritsumeikan University Panthers WR Noriaki Kinoshita increased his chances to gain one of the practice squad spots on NFL rosters for NFL Europe national players this summer. After five games the starting wide receiver for the Amsterdam Admirals leads the league in kickoff returns with an average of 27.5 yards per return (11 kickoff returns for 303 yards). In addition he has caught at least one pass in each game and improved his receiving statistics to a total of six catches for 123 yards. Admirals head coach Bart Andrus likes Kinoshita's chances to go to the NFL this summer. »I would think they'll be very good because he has been in this league for two years. The major concern with him had been, coming out of last season, his ability to speak English and if he could stay up with the understanding of an NFL offense as fast as you put things in. And I think he took that part of it very seriously during this past offseason and he is speaking really well now and he is understanding very well. So, I think he would be a guy that some of the people should consider because I think he has the ability to do that, to be on the practice of an NFL team«, Andrus said.
(Text: Dieter Hoch)
Impressive start for Kinoshita
On March 18 the NFL Europe, which is financed by the NFL and the players union NFLPA, opened the 2006 season with six japanese players on four of the NFL Europe rosters. Three players were assigned to the defending World Bowl champion Amsterdam Admirals: WR/KR Noriaki Kinoshita, former star of the Ritsumeikan University Panthers and two time national champion (2002 and 2003), returns for a second consecutive season to Amsterdam, LB Rikiya Ishida, former japanese national champion with Kwansei Gakuin University who played for the Admirals in 2003 and 2004, plays his third season for the Admirals (he missed the 2005 season due to a knee injury) and S Ryota Hori from the X League team Onward Skylarks is making his NFL Europe debut after trying out for the NFL Europe in 2005 but being cut at the end of the 2005 taining camp in Tampa (Florida). C Masakazu Goda (Onward Skylarks) returns for a second season to the Berlin Thunder, WR Michihiro Ogawa (Onward Skylarks) for a third season to the Cologne Centurions and WR Shoei Hasegawa, four year starter for Ritsumeikan University (2002 - 2005) and two time national champion (2002 and 2003), spends his first season in NFL Europe with Rhein Fire in Düsseldorf.
During the first three weeks of action only the three Admirals players had the opportunity to showcase their talent. While Ishida and Hori each had a couple of tackles on defense the biggest story so far is Kinoshita. The speedy receiver up to this point has been the most impressive kick and punt returner. Through week 3 he had six kickoff returns for 145 yards (24.2 average) and scored his first professional touchdown on a 59-yard punt return in a 29-33 loss to Berlin in week 1. He also caught one pass in each of the three games for 68 yards (22.7 average).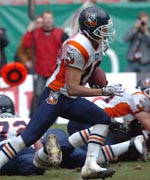 WR/KR Noriaki Kinoshita had an impressive start
into the new NFL Europe season.
(Photo: waynepaulo.com, Text: Dieter Hoch)
Nine players try out for NFL Europe
After a tryout on December 11 in Tokyo nine japanese players were invited to the NFL Europe's national player training camp in Tampa (Florida) in February 2006. The players are: C Masakazu Goda, WR Michihiro Ogawa and DB Ryota Hori from the X League team Onward Skylarks, WR Yuji Otaki (Ritsumeikan University Panthers), LB Rikiya Ishida, WR Noriaki Kinoshita, Kentaro Namiki (coach and former quarterback of the Waseda University Big Bears) and Shoei Hasegawa (coach and wide receiver at Ritsumeikan University). DB Koki Kato from Kanazawa University will join the group as a so called developmental player.
If the players survive the national camp in Tampa they will be allocated to some of the six NFL Europe teams. The 2006 season of the NFL Europe, which is financed by the NFL and the players union NFLPA, will start on March 18 and will end after a ten week regular season with the World Bowl at the LTU Arena in Düsseldorf (Germany) on May 27. In the 2005 season the Amsterdam Admirals from the Netherlands won the World Bowl for the first time by beating three-time World Bowl winner Berlin Thunder from Germany 27-21. The four other teams in the league are the Cologne Centurions, Frankfurt Galaxy, Hamburg Sea Devils and Rhein Fire from Düsseldorf (all from Germany).
Most of the japanese players who were invited to the NFL Europe training camp already have NFL Europe experience. Kinoshita, who won the Koshien Bowl with Ritsumeikan in 2004, played for the Admirals in 2005, mainly on special teams. His highlight of the season was a 20-yard kickoff return in the World Bowl. He also had a 21-yard kickoff return and a 12-yard catch during the regular season. Goda, also in his first NFL Europe season in 2005, played for Thunder but saw only limited action in two games. Former Kwansei Gakuin University player Ishida used to play for the Admirals in 2003 and 2004. In 2004 he was one of the top national players of the league recording 32 tackles and one quarterback sack. Namiki and Ogawa both spent their second NFL Europe season with the Cologne Centurions in 2005. In limited action Namiki threw eight passes (completing one) and ran three times for 30 Yards, Ogawa caught six passes for 67 yards. For Hasegawa, Otaki, Hori and Kato the 2006 season would be the first in the NFL Europe.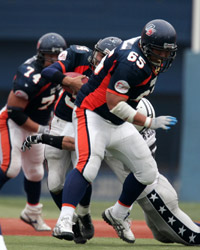 Masakazu Goda (No. 65) from the Onward Skylarks hopes
to play his second season in the NFL Europe in 2006.
(Photo: Onward Skylarks, Text: Dieter Hoch)
---
The material on this site is intended for the private use of the visitors and may not be published,
rewritten or redistributed without the written consent of www.american-football-japan.com.
You may find links from this site to other sites. www.american-football-japan.com
is not responsible for the contents available on these sites.
Impressum