Seagulls win championship
The Obic Seagulls won the national championship with a 47-17 rout of the Hosei University Tomahawks in the Rice Bowl. It is the third japanese championship in the Seagulls' team history and the first since winning it in 1998. In front of 28.041 fans in the Tokyo Dome the Seagulls dominated their opponents from the beginning with a punishing running game (283 rushing yards), holding the ball for more than 38 minutes. Meanwhile the Seagulls' defense held Hosei's top rusher Yasuhiro Maruta to just 11 rushing yards. RB Takuya Furutani, who shredded the Hosei defense with 246 yards and five touchdowns and was voted MVP of the game, gave the Seagulls an early 14-0 lead with two 1-yard touchdown runs within a five minute span in the first quarter. The 29 year old national team player (World Cup winner in 2003) added a third first half touchdown midway through the second quarter (2-yard run) to increase the Seagulls' lead to 20-0.

After falling behind 28-3 the Tomahawks gained a little momentum when they scored 70 seconds before the end of the first half with a 48-yard touchdown pass from QB Shun Sugawara to RB Yasuhiro Maruta and four minutes into the third quarter with a 46-yard touchdown pass from Sugawara to WR Shigeaki Inoue. But five and a half minutes later K Yosuke Kaneoya increased the Seagulls' lead to 31-17 with a 42-yard field goal ending any hopes of a Hosei comeback.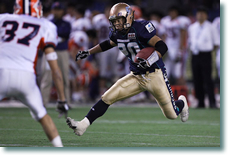 RB Takuya Furutani scored five touchdowns
for the Seagulls against Hosei University.
(Photo: X League / Makoto Sato, Text: Dieter Hoch)