World Cup 2007
Pool 1
7/7
Japan
France
48-0
7/10
France
Sweden
14-16
7/12
Sweden
Japan
0-48
| Team | W | L | T | PF | PA | Pts |
| --- | --- | --- | --- | --- | --- | --- |
| Japan | 2 | 0 | 0 | 96 | 0 | 4 |
| Sweden | 1 | 1 | 0 | 16 | 62 | 2 |
| France | 0 | 2 | 0 | 14 | 64 | 0 |
Pool 2
7/8
Germany
South Korea
32-2
7/10
South Korea
USA
0-77
7/12
USA
Germany
33-7
| Team | W | L | T | PF | PA | Pts |
| --- | --- | --- | --- | --- | --- | --- |
| USA | 2 | 0 | 0 | 110 | 7 | 4 |
| Germany | 1 | 1 | 0 | 39 | 35 | 2 |
| South Korea | 0 | 2 | 0 | 2 | 109 | 0 |
5th Place
7/14
France
South Korea
0-3
3rd Place
7/14
Sweden
Germany
0-7
Final
7/15
Japan
USA
ot 20-23
USA beats Japan
(July 15, 2007) - Team USA won the third American Football World Cup beating host and defending champion Japan at Todoroki Athletic Stadium in Kawasaki 23-20 in the second overtime. After Japan had taken a 17-10 lead with seven minutes and seven seconds left in regulation team USA answered with an 11-play 80-yard drive that ended with the second 5-yard touchdown run by RB Kyle Kasperbauer, the tournament's MVP, to tie the score at 17. In overtime both teams scored field goals with their first possession. In the second overtime Japan got the ball first but missed a 34-yard field goal attempt. Team USA then reached Japan's 6-yard line and on 4th and one kicked the game winning 22-yard field goal.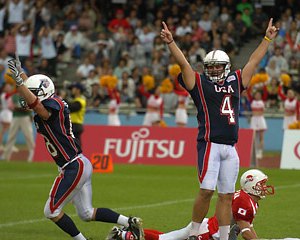 (c) JAFA / Andrew Malana
Japan vs USA
(July 12, 2007) - The championship game of the third American Football World Cup in Kawasaki will see the expected dream matchup with defending world champion Japan and the USA advancing to the final on Sunday. In today's first game the USA beat Germany 33-7. Team USA took a commanding 16-0 lead at the end of the first quarter with two touchdown runs and a safety. Germany's only score came on a 94-yard interception return with about a minute left in the first half. In the second game Japan crushed european champion Sweden 48-0.
Team USA roster announced
USA Football announced the 45 players who will make up the USA National Team for the 2007 American Football World Cup in Kawasaki (July 7 through July 15). The players were chosen from a pool of 2006 college seniors (players who ended their college careers with the end of the 2006 season) and represent all levels of college football. 13 players have been with teams from the highest level of college football,
the NCAA Division 1-A.
The most interesting player on offense is QB Jeff Ballard from TCU. In 2006 Ballard took the Horned Frogs to an 11-2 record including a 37-7 win against Northern Illinois in the Poinsettia Bowl and TCU ended the season ranked 22nd in the final AP Top 25. He completed 190 of 307 pass attempts for 2.394 yards and 13 touchdowns and was intercepted just five times. In addition he ran for 433 yards and 8 touchdowns. Ballard will be protected by two other former Division 1-A players who were starters: OT Darrin Johnson from SMU and G Marcel Burrough from San Jose State. Ballard's favourite targets could be WRs Steve Odom from Toledo and Austin Flynn from Iowa State. Over the past four seasons Odom caught 216 passes for 2.631 yards and 19 touchdowns (last season 46 catches for 428 yards and 2 touchdowns). Flynn in 2005 and 2006 had a combined 97 catches for 1.094 yards and 3 touchdowns. He came to Iowa State as a quarterback and played that position in 2003 and 2004 (1.541 yards, 8 touchdowns, 12 interceptions) before switching to wide receiver.
On the defensive side the marquee player could be DE Shawn Moorehead from Iowa State. Moorehead was a three year starter at Iowa State and posted 126 tackles and 19 quarterback sacks. Another player to watch is OLB Demetrius Eaton from Northwestern. In his only season as a starter he had 54 Tackles and 2,5 quarterback sacks.
(Text: Dieter Hoch)
Qualification
06/08/05
Germany
Denmark
68-7
06/10/16
Finland
Russia
42-0
07/01/06
France
Finland
25-6
07/01/28
Australia
South Korea
13-22
South Korea qualifies for World Cup
The Korean National team secured a position in the 2007 World Cup tournament with a 22-13 win over Australia last Saturday (January 28) evening. Under cool and windy conditions the running game of the Koreans proved to be the difference as they scored a well deserved victory.
After a tentative start to the game that was dominated by the respective defensive units, the Koreans were able to capitalise on an Australian turnover when Running Back Kang Hyo Bak (#35) took the ball off tackle for a long touchdown run. Choi Kyung Hoís (#51) conversion attempt was successful and the Koreans led 7-0 at the end of the first quarter.
The momentum shifted in the second quarter as the Australians were able to get their passing game into gear and they were able to move the ball into Korean territory. Australian Quarterback David Ward (#14) connected with Wide Receiver Steve Curwood (#17) who was able to thread his way through the opposition defense for the Australianís first Touchdown. Kyle Lowís (#5) conversion attempt was good and the scores were locked at 7-7 as the first half came to an end.
The second half began with a long Korean drive which used a mixture of runs and short passes. The drive was capped by Quarterback Kim Kyoung Minís (#18) elusive touchdown run that had Australian defenders grasping at air. The conversion attempt was unsuccessful and Korea resumed the lead by 13-7.
Korea scored again in the third quarter, this time on a spectacular catch by Tight End Oh Joon Seok (#8) from a pass thrown by Quarterback Park Kyung Bae (#16) with the success of the play based on an outstanding play-action fake by the Quarterback. Once again though the conversion was unsuccessful as it was blocked by the rushing Australian defenders but Korea assumed a commanding 19-7 lead as the third quarter came to an end.
In the final period it was a desperate Australian team that threw everything at their Korean opponents but the visiting defense was mostly up to the test. Korea moved into field goal range and Choi Kyung Hoís successful kick provided an adequate buffer by giving them a 22-7 lead, but the Australians were not finished.
With time running down David Ward found Wide Receiver Pat Di Domenico (#2) with a lofted pass and Di Domenico bulled his way into the endzone for a touchdown to pull the Australians within 9 points but the much-needed two point conversion attempt was well defended and the score stood at 22-13 in favour of the Koreans.
The Australians attempted an onside kick which was well covered by Korea and even though possession changed hands in the final few minutes the Koreans had done enough to manage the clock and secure their place in the 2007 World Cup.
(Text: IFAF)
Germany qualifies for World Cup 2007
Germany is the fourth team to participate in the 3. IFAF World Championships 2007 in July 2007 in Kawasaki (Japan). Team Germany clinched the World Cup spot by defeating Denmark 68-7 on August 5 in Flensburg (Germany) and joins two-time World Cup winner Japan as the host country, European Champion Sweden and the USA who had already been qualified. Two more spots will go to a another team from Europe (France, Finland or Russia) and to a team from Asia-Oceania.
Denmark took a surprising 7-0 lead following a fumble by RB Christian Poschmann on Germany's 13-yard line on the first play of the game. Four plays after the fumble RB Dan Karltoft scored with a 2-yard run. The german offense started slow but tied the game with a quick two-minute drive (5 plays, 66 yards) on its third possession. Denmark's next possession ended on the second play when S Oliver Flemming, who plays in the NFL Europe in spring (Berlin Thunder), intercepted a pass by QB Alexander Cimandon and returned the ball 40 yards for a touchdown (14-7). The following possession of the danish team ended with another interception by Flemming (at Denmark's 27-yard line). Three plays later Germany made it 21-7 when QB Jo Ullrich hit TE Bastian Nau with a 1-yard touchdown pass. After that Germany took control of the game against an overmatched opponent.
At the World Cup Germany will be the head of one of the two groups which means that it will not face Japan (head of the other group) in the first round of the tournament. The group setting for the World Cup will be decided after all qualification games have been played.
(Text: Dieter Hoch)
World Cup schedule announced
The organizing committee of the 3rd IFAF World Championships 2007 in Kawasaki (Japan) has announced the schedule for the six-team tournament. The participating teams will arrive in Japan on Thursday, July 5th and Friday, July 6th. Competition begins on Saturday, July 7th following an opening ceremony at Todoroki Stadium. The games will be held on Saturday, July 7th (first game of Pool 1), Sunday, July 8th (first game of Pool 2), Tuesday, July 10th (second game of Pools 1 and 2) and Thursday, July 12th (third game of Pools 1 and 2). On Saturday, July 14th the second place teams of Pools 1 and 2 will compete in the bronze medal game and the third place teams of Pools 1 and 2 will fight for 5th place. The championship game will be held on Sunday, July 15 at Todoroki Stadium (all other games from July 8th through July 14th will be held at Kawasaki Stadium). Teams depart on Monday, July 16th.
Three teams are already qualified for World Cup 2007: two-time World Cup winner Japan as the host country, European Champion Sweden and the USA. Two more spots will go to european teams. Germany, winner of the gold medal at the World Games 2005 in Duisburg (Germany) and bronze medal winner of World Cup 2003 in Hanau and Wiesbaden (Germany), will battle Denmark on August 5th at Flensburg (Germany) for one of those spots. The other spot goes to either France, Finland or Russia. First Finland plays Russia. The winner will play against France, bronze medal winner at the World Games 2005, for the spot in World Cup 2007. The final spot in the tournament goes to a representative from Asia-Oceania. Qualification games have to be played before February 28, 2007.
For further information please visit:
IFAF Website
(Text: Dieter Hoch)
---
The material on this site is intended for the private use of the visitors and may not be published,
rewritten or redistributed without the written consent of www.american-football-japan.com.
You may find links from this site to other sites. www.american-football-japan.com
is not responsible for the contents available on these sites.
Impressum