Three in a row for Panthers
The Ritsumeikan University Panthers from Kyoto clinched their third straight college championship with a 38-17 win in the Koshien Bowl against the Hosei University Tomahawks. Underdog Hosei kept the game close and took a 17-10 lead with a 91-yard kickoff return at the beginning of the second half. It took back to back fumbles by Hosei to turn things around for the Kansai League champion Panthers.

A fumble by Hosei QB Naoya Ichikawa lead to the touchdown by RB Hisashi Saito that tied the game at 17-17 and QB Shin Ikeno's 26-yard touchdown pass to WR Noriaki Kinoshita that gave the Panthers a 24-17 lead one minute and 24 seconds later came on the first play after a fumble by Hosei QB Shun Sugawara. Ritsumeikan took a 14 point lead (31-17) on Ikeno's second touchdown pass to Kinoshita in the third minute of the fourth quarter. About two and a half minutes later LB Akira Uchida increased the lead to 38-17 with a 60-yard interception return.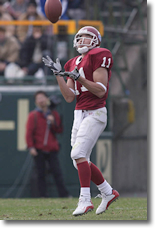 Two touchdowns by WR Noriaki Kinoshita put the
Ritsumeikan Panthers ahead for good against the Hosei Tomahawks.
(Photo: X League / Makoto Sato, Text: Dieter Hoch)