East
Week 1
9/4
Asahi Beer Silver Star
All Mitsubishi Lions
20-7
9/6
Fuji Xerox Minerva AFC
Bullseyes Tōkyō
3-7
9/8
Kajima Deers
IBM BigBlue
28-0
Week 2
9/18
IBM BigBlue
All Mitsubishi Lions
34-7
9/18
Asahi Beer Silver Star
Bullseyes Tōkyō
32-0
9/19
Kajima Deers
Fuji Xerox Minerva AFC
62-0
Week 3
9/26
All Mitsubishi Lions
Fuji Xerox Minerva AFC
14-9
9/26
Asahi Beer Silver Star
IBM BigBlue
17-20
10/02
Kajima Deers
Bullseyes Tōkyō
45-3
Week 4
10/9
IBM BigBlue
Bullseyes Tōkyō
40-0
10/9
Asahi Beer Silver Star
Fuji Xerox Minerva AFC
58-0
10/10
Kajima Deers
All Mitsubishi Lions
23-0
Week 5
10/23
IBM BigBlue
Fuji Xerox Minerva AFC
28-6
10/23
Asahi Beer Silver Star
Kajima Deers
23-24
10/23
All Mitsubishi Lions
Bullseyes Tōkyō
24-3
| Team | W | L | T | PF | PA | Pts |
| --- | --- | --- | --- | --- | --- | --- |
| Kajima Deers | 5 | 0 | 0 | 182 | 26 | 10 |
| IBM BigBlue | 4 | 1 | 0 | 122 | 58 | 8 |
| Asahi Beer Silver Star | 3 | 2 | 0 | 150 | 51 | 6 |
| All Mitsubishi Lions | 2 | 3 | 0 | 52 | 89 | 4 |
| Bullseyes Tōkyō | 1 | 4 | 0 | 13 | 144 | 2 |
| Fuji Xerox Minerva AFC | 0 | 5 | 0 | 18 | 169 | 0 |
Central
Week 1
9/7
Obic Seagulls
Hurricanes AFC
38-0
9/9
Fujitsu Frontiers
All Tōkyō Gas Creators
51-16
9/10
Nihon Unisys Bulls
Meiji Yasuda Pirates
10-20
Week 2
9/19
Fujitsu Frontiers
Hurricanes AFC
55-3
9/20
Nihon Unisys Bulls
All Tōkyō Gas Creators
10-7
9/20
Obic Seagulls
Meiji Yasuda Pirates
24-7
Week 3
10/2
Obic Seagulls
Nihon Unisys Bulls
59-0
10/3
Hurricanes AFC
All Tōkyō Gas Creators
15-16
10/3
Fujitsu Frontiers
Meiji Yasuda Pirates
28-0
Week 4
10/10
Meiji Yasuda Pirates
Hurricanes AFC
31-3
10/11
Obic Seagulls
All Tōkyō Gas Creators
55-3
10/11
Fujitsu Frontiers
Nihon Unisys Bulls
69-0
Week 5
10/24
Nihon Unisys Bulls
Hurricanes AFC
7-14
10/24
Fujitsu Frontiers
Obic Seagulls
13-17
10/24
Meiji Yasuda Pirates
All Tōkyō Gas Creators
ot 13-7
| Team | W | L | T | PF | PA | Pts |
| --- | --- | --- | --- | --- | --- | --- |
| Obic Seagulls | 5 | 0 | 0 | 193 | 23 | 10 |
| Fujitsu Frontiers | 4 | 1 | 0 | 216 | 36 | 8 |
| Meiji Yasuda Pirates | 3 | 2 | 0 | 71 | 72 | 6 |
| Hurricanes AFC | 1 | 4 | 0 | 35 | 147 | 2 |
| All Tōkyō Gas Creators | 1 | 4 | 0 | 49 | 144 | 2 |
| Nihon Unisys Bulls | 1 | 4 | 0 | 27 | 169 | 2 |
West
Week 1
9/4
Suita Marvies
As One Black Eagles
27-7
9/4
Panasonic Denko Impulse
Elecom Kōbe Finies
45-0
9/5
Asahi Soft Drinks Challengers
Nagoya Cyclones
35-0
Week 2
9/19
Panasonic Denko Impulse
As One Black Eagles
51-0
9/19
Asahi Soft Drinks Challengers
Elecom Kōbe Finies
31-0
9/19
Suita Marvies
Nagoya Cyclones
7-0
Week 3
9/26
Panasonic Denko Impulse
Nagoya Cyclones
52-0
9/26
Asahi Soft Drinks Challengers
Suita Marvies
ot 14-7
9/26
Elecom Kōbe Finies
As One Black Eagles
28-21
Week 4
10/9
Elecom Kōbe Finies
Nagoya Cyclones
3-0
10/11
Asahi Soft Drinks Challengers
As One Black Eagles
39-2
10/11
Panasonic Denko Impulse
Suita Marvies
31-20
Week 5
10/23
As One Black Eagles
Nagoya Cyclones
9-3
10/23
Suita Marvies
Elecom Kōbe Finies
ot 16-13
10/24
Panasonic Denko Impulse
Asahi Soft Drinks Challengers
ot 23-20
| Team | W | L | T | PF | PA | Pts |
| --- | --- | --- | --- | --- | --- | --- |
| Panasonic Denko Impulse | 5 | 0 | 0 | 202 | 40 | 10 |
| Asahi Soft Drinks Challengers | 4 | 1 | 0 | 139 | 32 | 8 |
| Suita Marvies | 3 | 2 | 0 | 77 | 65 | 6 |
| Elecom Kōbe Finies | 2 | 3 | 0 | 44 | 123 | 4 |
| As One Black Eagles | 1 | 4 | 0 | 39 | 148 | 2 |
| Nagoya Cyclones | 0 | 5 | 0 | 3 | 106 | 0 |
2nd Stage
Block A
11/7
Asahi Beer Silver Star
Panasonic Denko Impulse
19-24
11/14
Fujitsu Frontiers
Asahi Beer Silver Star
34-3
11/21
Panasonic Denko Impulse
Fujitsu Frontiers
23-6
| Team | W | L | T | PF | PA | Pts |
| --- | --- | --- | --- | --- | --- | --- |
| Panasonic Denko Impulse | 2 | 0 | 0 | 47 | 25 | 4 |
| Fujitsu Frontiers | 1 | 1 | 0 | 40 | 26 | 2 |
| Asahi Beer Silver Star | 0 | 2 | 0 | 22 | 58 | 0 |
2nd Stage
Block B
11/7
Suita Marvies
Obic Seagulls
2-56
11/14
Suita Marvies
IBM BigBlue
10-42
11/21
Obic Seagulls
IBM BigBlue
55-27
| Team | W | L | T | PF | PA | Pts |
| --- | --- | --- | --- | --- | --- | --- |
| Obic Seagulls | 2 | 0 | 0 | 111 | 29 | 4 |
| IBM BigBlue | 1 | 1 | 0 | 69 | 65 | 2 |
| Suita Marvies | 0 | 2 | 0 | 12 | 98 | 0 |
2nd Stage
Block C
11/6
Kajima Deers
Meiji Yasuda Pirates
52-13
11/13
Meiji Yasuda Pirates
Asahi Soft Drinks Challengers
24-29
11/21
Asahi Soft Drinks Challengers
Kajima Deers
23-38
| Team | W | L | T | PF | PA | Pts |
| --- | --- | --- | --- | --- | --- | --- |
| Kajima Deers | 2 | 0 | 0 | 90 | 36 | 4 |
| Asahi Soft Drinks Challengers | 1 | 1 | 0 | 52 | 62 | 2 |
| Meiji Yasuda Pirates | 0 | 2 | 0 | 37 | 81 | 0 |
| | | | |
| --- | --- | --- | --- |
| | Final Stage | | |
| | Semifinals | | |
| 12/5 | Panasonic Denko Impulse | IBM BigBlue | 31-28 |
| 12/5 | Kajima Deers | Obic Seagulls | ot 21-28 |
| | Japan X Bowl | | |
| 12/20 | Panasonic Denko Impulse | Obic Seagulls | 16-20 |
| | Rice Bowl | | |
| 1/3 | Obic Seagulls | Ritsumeikan University Panthers | 24-0 |
| | | | |
| --- | --- | --- | --- |
| 2nd Stage | Relegation East | | |
| 11/6 | Hurricanes AFC | Fuji Xerox Minerva AFC | 13-18 |
| 11/7 | All Mitsubishi Lions | Nihon Unisys Bulls | 27-14 |
| 11/13 | All Tōkyō Gas Creators | Fuji Xerox Minerva AFC | 31-7 |
| 11/14 | Bullseyes Tōkyō | Nihon Unisys Bulls | 6-42 |
| 11/20 | Bullseyes Tōkyō | All Tōkyō Gas Creators | 0-31 |
| 11/21 | All Mitsubishi Lions | Hurricanes AFC | 7-0 |
| | | | |
| --- | --- | --- | --- |
| 2nd Stage | Relegation West | | |
| 11/7 | Elecom Kōbe Finies | Nagoya Cyclones | 23-15 |
| 11/14 | As One Black Eagles | Nagoya Cyclones | 30-6 |
| 11/21 | Elecom Kōbe Finies | As One Black Eagles | 26-21 |
| | | | |
| --- | --- | --- | --- |
| | Relegation | | |
| 12/26 | Fuji Xerox Minerva AFC | Tōkyō MPD Eagles | 14-0 |
| 12/26 | Hurricanes AFC | Sagamihara Rise | 0-57 |
Sugawara leads Seagulls to Rice Bowl win
(Januar 5, 2011) - The Obic Seagulls, 2010 champion of the X League, claimed their fourth japanese championship with a 24-0 Rice Bowl win against the 2010 college champion Ritsumeikan University Panthers in front of nearly 36.000 fans at the Tokyo Dome. With the win, five years after their last win in the title game, the Seagulls moved into a tie with the Kyoto University Gangsters and Nihon University Phoenix for most Rice Bowl victories. The Seagulls' win was the 16th victory for the X League champion in the 28 years since the Rice Bowl became the japanese championship game. The key player for the Seagulls once again was QB Shun Sugawara who had joined the team in the spring of 2010. He opened the scoring three minutes into the game with a 49-yard touchdown pass to WR Ryoma Hagiyama for the Seagulls' 7-0 lead, five minutes before halftime he increased the lead to 14-0 with an 11-yard touchdown run.
Sugawara offered one of the most interesting stories in japanese football for the past few years. When the Seagulls last played in the Rice Bowl at the end of the 2005 season he played for their opponent, the Hosei University Tomahawks. After his college career he played for the Onward Oaks and in his first year in the X League (2008) he became the top quarterback of the league. Following the 2008 season the Oaks were shut down because the Onward company stopped their financial support. The players formed a new team, Sagamihara Rise, but had to compete in the X League 3. Since he wanted to play for a team that competes for a championship Sugawara left the Rise and joined the Seagulls in the spring of 2010. Next season, by the way, Sugawara could face his former teammates as opponents since the Rise moved up from the X League 2 by beating the Hurricanes 57-0 in their relegation game.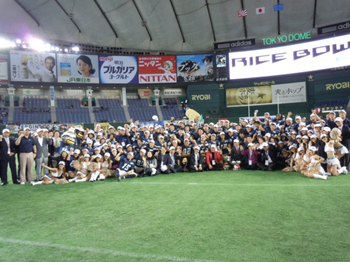 The 2010 japanese champion Obic Seagulls.
(Text: Dieter Hoch / Photo: Obic Seagulls)