Rice Bowl 2004 Season
Rice Bowl
January 3 2005, Tokyo Dome
| | | | | | |
| --- | --- | --- | --- | --- | --- |
| Matsushita Denko Impulse | 7 | 3 | 3 | 13 | 26 |
| Ritsumeikan University Panthers | 0 | 0 | 0 | 7 | 7 |
| | | |
| --- | --- | --- |
| 7-0 | Ishino | 26 yard run (Ota kick) |
| 10-0 | Ota | 34 yard field goal |
| 13-0 | Ota | 20 yard field goal |
| 16-0 | Ota | 24 yard field goal |
| 19-0 | Ota | 39 yard field goal |
| 19-7 | Kinoshita | 97 yard kickoff return (Kishino kick) |
| 26-7 | Koichi Takahashi | 1 yard run (Ota kick) |
---
Team Statistics
| | | |
| --- | --- | --- |
| 31-20 | Attempts-Completions | 26-12 |
| | | |
| --- | --- | --- |
| 42:28 | Time of Possession | 17:32 |
---
Individual Statistics
Rushing
Matsushita: Ishino 13-69, Kobayashi 12-43, Araki 3-11, Koichi Takahashi 7-11, Uruchida 7-11, Kashino 2-10, Yamanaka 1-8, Shimokawa 1-1, Koji Takahashi
7-(-2)
Ritsumeikan: Ikeno 5-20, Tsukuda 1-6, Saito 2-1, Honda 1-(-7), Kinoshita 2-(-9), Furukawa 3-(-16)
Passing
Matsushita: Koji Takahashi 22-15-167-0-0, Koichi Takahashi 9-5-45-0-0
Ritsumeikan: Ikeno 23-9-80-4-0, Kinoshita 2-2-(-1)-0-0, Kishino 1-1-12-0-0
Receiving
Matsushita: Kamiyama 8-74, Shimokawa 4-70, Maruyama 4-29, Tsukazaki 2-23, Noguchi 2-16
Ritsumeikan: Kinoshita 4-44, Hasegawa 2-37, Kishino 2-(-4), Ootaki 1-9, Wada 1-4, Honda 1-2, Furukawa 1-(-1)
Matsushita Denko Impulse new japanese champion
Matsushita Denko Impulse from Osaka won the japanese championship for the second time in the team's history. At the Rice Bowl in Tokyo the champion of the X League (which is composed of true company teams and club teams sponsored by companies) defeated the college champion and japanese champion of the previous two years, the Ritsumeikan University Panthers from Kyoto, 26-7. The offense of the Panthers was shut down by the best defense of the 2004 season. Even WR Noriaki Kinoshita who will play in the NFL Europe in the spring of 2005 was - with one exception - completely taken out of the game.
The Impulse defense which allowed less than six points per game in X League competition lived up to their reputation. Lead by CB Masahiro Nomura, later voted Rice Bowl MVP, and DE Yasuo Wakisaka (both had played in Japan's World Cup victories in 1999 and 2003 as well as in the Impulse's Rice Bowl victory in the 1994 season) shut down the Panthers' running game. The Panthers' offense tried to beat the defense of Impulse with some trick plays but was not successful because of the discipline of the Impulse defense. On the other hand the Impulse offense controlled the clock with a succesful running game. The only problem for Impulse was that it missed too many scoring opportunities. Twice the Impulse offense was just a few yards away from the Panthers' endzone but had to kick field goals instead of scoring touchdowns. The Impulse also missed three field goal attempts.
It was only fitting that the Panthers helped Impulse to score the first points. A bad snap on a punt near the end of the first quarter gave the Impulse possession at Ritsumeikan's 26-yard line. On the next play RB Masahiro Ishino's touchdown plus the PAT gave Matsushita a 7-0 lead. The Panthers scores their only points late in the game. Following Matsushita's score to increase the lead to 19-0 about seven minutes before the end of the game Noriaki Kinoshita (with seven catches for 121 yards and two touchdowns the outstanding player in Ritsumeikan's victory against Hosei University in the college championship game) scored the Panthers' only touchdown with a 97-yard kickoff return. About two minutes later, following an unsuccessful onside kick try by the Panthers that gave the Impulse possession at Ritsumeikan's 28-yard line, QB Koichi Takahashi gave Matsushita a 19 point lead again with his 1-yard touchdown run.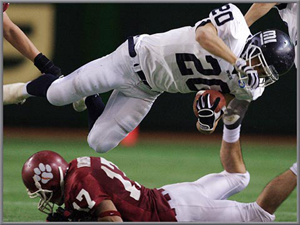 RB Masahiro Ishino scored the first points for
Matsushita Denko Impulse in the Rice Bowl of the 2004 season.
(Photo: X League / Makoto Sato, Text: Dieter Hoch)
---
The material on this site is intended for the private use of the visitors and may not be published,
rewritten or redistributed without the written consent of www.american-football-japan.com.
You may find links from this site to other sites. www.american-football-japan.com
is not responsible for the contents available on these sites.
Impressum